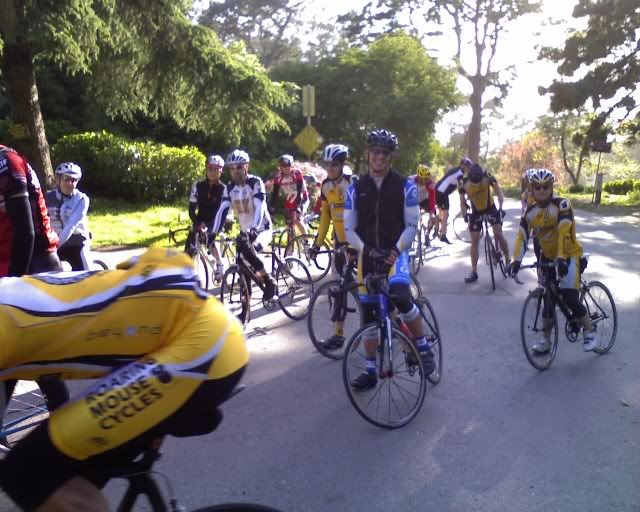 The Tuesday night GG Park sprint workouts are in full swing.  
Definitely my most painful workout of the week.
This Tuesday tradition has been going on for years and years.  I remember seeing them many times over the years when I used to run in the park on Tuesdays.
About 3 years ago I decided to try joining the group for a ride.  I remember how intimidated I was those first several weeks.  I didn't know anybody, everybody had better bikes than I did and fancy team kits while I was in a generic blue jersey and black shorts.  I was afraid that they would all have attitudes and not accept some dorky newb into their clique.
 I'd just sit off to the side by myself and wait for the ride to start and stay just off the back for the first lap or so until I got dropped.  It was discouraging, but I kept coming back, and started talking to a few guys, who were much nicer than I had expected.  After a few weeks I was able to hang with the group and started feeling real comfortable on the bike.  Eventually guys started telling me that I should try racing.  I was pretty scared, but decided to give it a go.

If I hadn't found this group I'd most likely still be a runner, but I'd also probably have a lot more money in the bank.
In a few weeks I hope to give racing on the track on Tuesdays a try, where once again I'll be the dorky newb.